The Ukrainian Canadian Students' Union (SUSK) is excited to introduce the SUSK Volunteer Award for the 2022-23 academic year. This award will be presented on an annual basis to a select group of individuals to have made significant contributions for the betterment of the Ukrainian Community and their peers. 
SUSK Members that have shown leadership and volunteer excellence are eligible for the award. This award recognizes members who have worked for the betterment of the community with or without their Ukrainian Student Organization (USO). 
Candidates eligible for the award must be members of a registered Ukrainian Student Organization under SUSK.
Any two SUSK members or USO members can nominate an individual for the SUSK Volunteer Award. You cannot nominate yourself. 
The form is now open! Click here to submit a nomination by April 2, 2023.
2022 SUSK Volunteer Award Recipients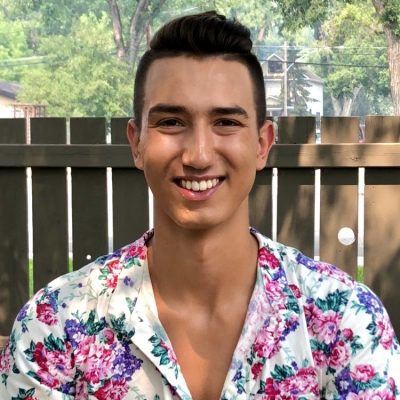 River Hoffos is a hard-working Ukrainian student dedicated to sharing his love for Ukraine with the Ukrainian community on and off-campus. He has spent many hours organizing events and volunteering his time to spread awareness about Russia's war against Ukraine. Hoffos often volunteers his time by offering his musical talents (playing the drums in the Ukrainian band "Kobzari") at Ukrainian events within the Ukrainian community. He has also been an active volunteer for the Dunai Ukrainian Dancers, the Ukrainian Students' Society, and the SUSK Congress Committee. 
Hoffos worked tirelessly to organize a very successful Stand With Ukraine Rally on the U of A campus in the short turnaround of three days in an effort to spread awareness of Russia's war against Ukraine. This involved notifying news stations, reporters, and the Ukrainian community, organizing speakers, booking a space to host the rally, and attending the rally. Hoffos has also volunteered his time by taking a lead role in planning the 2022 SUSK Congress which will take place in his home city of Edmonton, Alberta. This involves constant communication with members of the Ukrainian community in the Edmonton and surrounding area, booking tours, banquet halls, and organizing performers (musicians, dancers, speakers, etc.).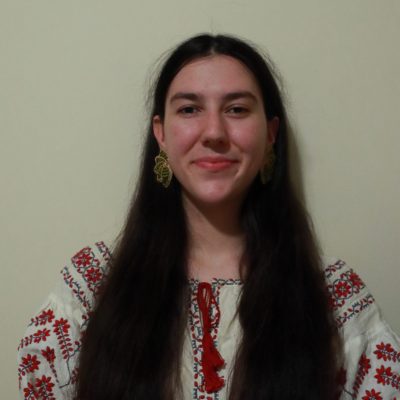 Kebrija is a volunteer member of SUSK's Advocacy Committee and is the acting president of the Humber College Ukrainian Student Club.
During the first day of war Kebrija reached out to Humber College and IGNITE Student Union and acquired a meeting with numerous Dean's and heads of departments to try and preemptively determine students' needs and how to best support their needs. When Humber failed to help students in a number of areas such as housing, Kebrija helped find housing for International Ukrainian students.
Kebrija also put together and assisted as a co-facilitator community counselling sessions, for International Ukrainian students from a number of colleges across the Greater Toronto Area that didn't have Ukrainian Student Clubs, with the support of qualified Ukrainian psychologists.
Kebrija is also actively involved in arranging opportunities to share cultural awareness and relationship building between the Indigenous and Ukrainian communities and has arranged and provided opportunities including the Necklace Making Workshop which opened the floor to both Indigenous and Ukrainian students from Humber to come and learn from an Inuk & Mi'kmaw Artist the form of Inuit & Lemko necklace making and their similarities and differences. Kebrija also helped raise awareness surrounding petition E-3659 which was under "Social Affairs and Equity" aiming to provide adequate housing conditions for Indigenous communities of which many Indigenous Ukrainians are members. This saw hundreds in the Ukrainian community from across Canada rally together to sign, while simultaneously connecting Indigenous Ukrainians and ensuring Indigenous Ukrainians know they are and will always be apart of our community and that we will support Indigenous communities (First Nations, Métis and Inuit) whose land and communities have long supported our community.
Past SUSK Volunteer Award Recipients
With the shift to an online environment, Dasha went above and beyond expectations. Given the role of Media Support to our VP Media, Dasha continuously stepped up when our VP Media could not deliver. She truly exceeded her responsibilities and took on dynamic initiatives. Dasha worked tirelessly to maintain and grow our membership through virtual engagement, and ensured that our social media presence was nothing less than exceptional. 
Dasha took on many new initiatives for our online presence. She focused on cultural awareness with her weekly "Famous Fridays" posts to highlight celebrities and well-known individuals of Ukrainian origin. She began a "Tips from OUSC Baba" project, posting weekly Ukrainian tips that were incredibly humourous and engaging. Dasha also researched Ukrainian brands weekly, sharing them with our audience to promote the support of our brothers and sisters in Ukraine. During our Postcards for Prisoners campaign, Dasha took a lead and gave up an entire weekend day to deliver postcards across the Ottawa-Gatineau area. Dasha made numerous info graphics throughout the year that support Ukraine's fight for independence. These posts typically picked up a lot of traffic and engagement from community members – in both Ottawa and in Canada.
Most notably, Dasha created the powerful OUSC slogan "THE HAMMER AND SICKLE AREN'T CUTE." In order to promote de-communization efforts, she designed tote bags with this saying on it. A lot of effort from Dasha was put into these bags, including hours of grant application writing and logistical organization. These tote bags have been shipped all across Canada, and even to Portugal. The success of this initiative is thanks to Dasha.
Larysa Stech just graduated with a BSc in Honours Life Sciences at McMaster University, and will begin her journey at Brock University where she will be completing her Masters in Public Health. Larysa is very active in the Ukrainian community. Her love for Ukrainian culture has led to her becoming the President of the McMaster Ukrainian Students' Association in Hamilton within the last year. Throughout the year, Larysa helped in organizing and leading events for Ukrainians and non-Ukrainians alike within the McMaster community.

Such events included the online Holodomor webinar, online "kolyada", game night, take-home embroidery self care sets and perogy nights.
Outside of school, she is involved in multiple Ukrainian organizations. Most distinctively, she was the program co-ordinator of the Mississauga Branch of the Ukrainian Youth Association (CYM), where she organized weekly meetings for children aged 6-17 under the slogan "God and Ukraine", yearly leadership seminars and cultural concerts for the kids.
Larysa loves seeing the Ukrainian culture flourish and has created the first CYM National Youth Jamboree in Canada (Zlet Canada) back in 2017, which continues being a popular annual event across Canada. Larysa is a member of Ukraina School of Dance, where she dances various styles of Ukrainian folk dances, and is part of the Dormition of the Mother of God Ukrainian Catholic Church's parish choir. She is a dedicated member of the Ukrainian Canadian community and will continue to be involved in future years to come.